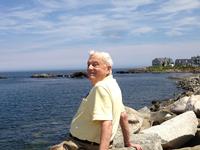 Kendall Read Richardson, of Needham, passed away peacefully, surrounded by his family on Sunday, April 7th at the age of 89. Born in Hartford, CT, he was the son of the late C. Read and Lucille (Kendall) Richardson. He grew up in Manchester, CT, graduated from Brown University in 1953 and received his Masters from the University of Connecticut. On August 6, 1955, he married the "love of his life", Betty (Stevens).
He began his teaching career in Glastonbury, CT, and was awarded a John Hay Fellowship at Harvard University. In 1968, Mr. Richardson and his family moved to Needham, MA, where he began his career teaching History at Needham High School, retiring in 1993. For many years he was known at Needham High for the carnation he wore every day on his lapel.
Click here for the entire obituary.
Thanks to Chris O'Connor Spear for letting us know.
https://www.eatonfuneralhomes.com/notices/Kendall-Richardson