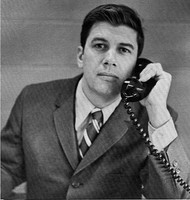 Thomas Eastman was lost at sea while fishing off Cape Cod. Dave Lockard reports that Tom had completed requirements for his doctorate at Maryland and was to have received the degree in December. Tom was one of our promising young NARST members. Our sympathy goes out to Mrs. Eastman and other members of Tom's family. NARST members may want to express their sympathy to Tom's wife, Mrs. Beverly Eastman, 58 Hawthorn Avenue, Needham, Mass. 02192. An Eastman Memorial fund has been established and contributions may be sent to Mr. John Griffin, assistant principal, Needham High School, 609 Webster Street, Needham, Mass. 02194.

From the Newsletter of the National Association for Research in Science Teaching
December 1973

Dr Eastman's son graduated from Needham High and is an AIDS researcher at Rockefeller University in NY.

From his wedding announcement in 2007:

Williams-Eastman
Dawnnica Kay Williams and Scott Walton Eastman were married June 3, 2006 in Wellfleet.

The bride is the daughter of Karen Williams Hay and Steven H. Williams of Eureka, Calif. She was a doctoral student at the University of Washington and is currently attending Cornell Medical School.

The groom is the son of Beverly Eastman Warren and William Warren of Wellfleet, and the late Thomas Walton Eastman. A graduate of Needham High School, he was a doctoral student at the University of Washington and is currently a postdoctoral fellow at Aaron Diamond AIDS Research Center of The Rockerfeller University in New York.