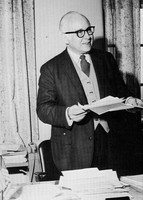 Harry Leonard Walen, 93, a longtime resident of Rockport, died August 22, 2008, at the Langdon Place in Exeter, N.H.
He was born June 26, 1915, in Winchester, son of the late Harry Leonard Walen and Alice (Garland) Walen.
Mr. Walen grew up in Newton and was a graduate of Newton High School, Class of 1933. He continued his education and later graduated cum laude from Harvard University, Class of 1937 and also received his Master of Arts degree there in 1942.
Mr. Walen had a long and distinguished career as a teacher, principal and school administrator. Throughout his professional career, he served in various capacities. From 1937 to 1942, Mr. Walen was a teacher at Los Alamos Ranch School in New Mexico, where he was head of the English department from 1939 to 1942. He taught English at Groton School from 1942 to 1946. He served as an instructor of English and a faculty marshal at Newton Jr. College from 1946 to 1951, a teacher of English and journalism at his alma mater, Newton High School, from 1946 to 1951, and as an administrator there from 1951 to 1955. Mr. Walen was directing editor of secondary school English textbooks at Ginn & Co., Boston, from 1955 to 1961. He returned to public school service as principal of Needham High School from 1961 to 1972. He concluded his career in schools as post secondary guidance counselor at Needham from 1972 to 1979.
Mr. Walen served as a member of the U.S. DOE Regional Interviewing Committee for Overseas Grants and Fellowships, 1961-1984; and a member of the Task Force on High School Graduation Requirements, Mass DOE, 1976-1980.
He authored the following books: "The Family Travel-Camper," 1955; (with E. Gordon and others) "Types of Literature, American Literature, English Literature," 1964; "The Memory Book of the New England Association of Teachers of English," 1981; "The Sons of the American Revolution 1962-1982: An Historical Anthology," 1984; "Images and Perceptions," 1996; "The Birds of Budapest," 2004. Mr. Walen published the following monographs: English Learning Environments, 1972; History of the Order of Founders and Patriots of America, 1982; Centennial History, 1996; co-author Alluring Rockport, rev. edit. 1986; The Little Old Meeting House and How It Grew; editor The English Leaflet, 1947-1954; cons. editor on career education New Voices Series, 1978. He contributed chapters, articles and poems to numerous books, professional journals and periodicals.
Numerous offices and awards included the following: while at Los Alamos, Mr. Walen served as deputy sheriff of Santa Fe County and (after Pearl Harbor was attacked) as colonel of the State Militia; alderman, city of Newton, 1961-1972; poet laureate, Rockport, 1998, 1999-; corp. mem. USS Massachusetts Memorial Committee, Inc, 1972-; board director, 1984-1991; honorary director, 1995-; chairman, education committee, N.E. Conference National Conference of Christians and Jews, 1972-1982; member, study mission to Israel, 1974; vice chairman, N.E. Conference on Quality of Life, Boston, 1973; member, Newton Regional Manpower Planning Board, 1973-1977; president, Counseling Services YMCA, Greater Boston, 1976-1977; chairman, Newton Highlands Congregational Church Board of Christian Education, 1974-1975; First Congregational Church, Rockport historian, 1982-2002; delegate, Mass. Conf. United Church Christ, 1989-1996.
Additionally, he was a John Hay fellow, 1965 and Mass. Dept. Education Commonwealth fellow, 1971; recipient of: citation, U.S. Commissioner of Education, 1971; citation, NE Association of Schools and Colleges, 1984; Certificate of Appreciation, City of Newton, 1971; Service Award, YMCA, 1978; and member of National Council Teachers English (associate chairman national convention 1965, chairman, co-founder Emeritus Assembly, 1979-1983, various other commissions and offices, citation, 1969); Nat. Assn. Secondary Sch. Prin.; Headmasters Assn. (life); N.E. Association of Teachers of English (life, past president, chairman ann. Charles Swain Thomas Award commission, 1975-1996, historian 1978-, Thomas Award recipient, 1978); Mass. Secondary School Principals Assn. (diploma standards com., 1973-78, Bronze Plaque, 1974); Mass Council of Teachers of English (co-founder); Mass. Schoolmasters Club (past pres. hon., life); MENSA.
Also, he was involved with: Friends of Jackson Homestead, Newton Historical Society (life, past president); Los Alamos (N.M.) Historical Society (life); Sandy Bay Historical Society (president, 1983-1986); Greater Boston Guidance Club (hon.); Nat. Gavel Society; N.E. Historical and Genealogical Society; SAR (state president, 1979-1981; National Trustee, 1981-1983; Historian Gen., 1983-1986; Secretary Mus. Bd., 1982-1988; Minuteman Award, 1985); Gen. Society of Mayflower Descendants (mem. Nat. Executive Committee, 1990-1993); Mass. Society Mayflower Descendants (Gov., 1985-1988; Deputy Gov. Gen., 1988-1993); Pilgrim John Howland Society (president, 1987-1999; president emeritus, 1999-; led pilgrimage to England, 1989); Mass. Huguenot Society (president, 1990-1992; Nat. Delegate, 1983-1992); Descendants Colonial Clergy; Society Colonial Wars; Navy League U.S. (life); Sons and Daughters of 1st Settlers of Newbury (president, 1982-84); Piscataqua Pioneers (president, 1990-91); Order of Crown of Charlemagne; Order of Founders and Patriots (Nat. treasurer, 1978-1981; Dep. Gov. General, 1981-84; Exec. Com., 1992-2000; Councilor Gen. (Mass. 1984-, NH 1987-1990), Gov. 1992-1995, Councilor Gen. 1993-, Nat. Distinguished Service award 1996.
Finally, he was associated with the Boston Athenaeum; Harvard Club of Boston; Boston Authors Club (president, 1995-96); English Lunch Club (president, 1975-82); Friday Evening Club (Most Venerable 1979-86); Sandy Bay Yacht Club; Masons (32nd Degree, 50-year award).
Mr. Walen was predeceased by his wife of 67 years, Elizabeth (Rowe Benson) Walen, who died December 13, 2006. They resided in Los Alamos, N.M., and Groton before settling for 30 years in Newton, from 1946 to 1978. They retired to their roots on Cape Ann, settling in Rockport, where they lived from 1978 to 2005. Lastly, at the age of 90, the beloved couple relocated to Exeter, N.H., to be closer to their three sons.
Survivors include three sons and their wives: H. Benson and Lois Walen of Rindge, N.H., Kimball and Jean Walen of Kingston, N.H., and Robert Walen and Susan Cormier of Amherst, N.H.; six grandchildren; nine great-grandchildren; one brother, Roger and Constance Walen of Marion; and three nieces.