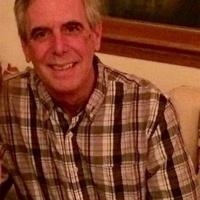 Russell James Proctor, of Norfolk, passed away peacefully on December 1, 2018 at the age of 66. He was the son of the late Robert Bailey Proctor and Irene (Butchart) Proctor and is survived by his loving wife of 43 years, Beth Anne Proctor and his brother, Donald Robert Proctor.
Russell is lovingly cherished by his two children: William Russell Proctor, 38, and his wife, Mariah, of Cumberland, RI and Robert Howard Proctor, 34, and his wife, Katy, of Wrentham. He also leaves behind two grandsons: Anthony Proctor and Owen Proctor.
Russell graduated from Needham High School and received his bachelor's degree from Northeastern University in 1975. He worked as an IT Director until his retirement. He then continued to work part-time at Main Street Hardware in Norfolk.
A perfect day for Russell would be working on his small projects around the house, some light carpentry, a gentle cruise in his newly restored T-Bird and a Sunday NASCAR race followed by a meal at one of his favorite restaurants. Of course, the day would not be complete without the company of those he loved. He cherished the time he spent interacting with his grandsons and watching them grow. Russell was always quick with a joke and had a great sense of humor. Most of all, he loved being with family and friends.
Relatives and friends are invited to attend visiting hours from 2 pm to 4 pm on Wednesday, December 12, 2018 in the RJ Ross Funeral Home, 135 South Street, Wrentham. A Memorial service will follow at 4 pm.
In lieu of flowers, donation in his memory may be made to the Dana Farber Cancer Institute at www.danafarbergiving.org
http://www.rjrossfuneralhomeinc.com/obituary/russell-proctor